UGREEN USB Switch Selector, KM Switcher Box 2 in 1 Out USB 2.0 Sharing Switch Hub
for Printer, Scanner, Speaker, Keyboard, Mouse, Hard Driver with 2 Pack USB 2.0 Cables
Seamless Switch - USB 2.0 Switch Selector is an ideal solution to switch your USB device like printer, scanner, keyboard, hard drive webcam freely between your work computor and personal laptop.
One Touch - USB sharing switch provides easy one-touch switching for 1 USB device between 2 computers, saving you the hassle going through repeated plug and unplug. Important note: For stabler perfomance, pls limit the total USB Cable Length on both sides of the selector to 3M.
More Space, Less Cost - With this USB printer switch, 2 computers can share 1 printer, which gives you a great space increase and a sharp cut down of equipment spending.
Plug and Play - Driver-free for Windows 10/8/8.1/7/Vista/XP, Mac OS X, Linux, and Chrome OS, simply plug and play.
LED Indicator - The switch box has a built-in LED indicator. You could know the working status by just a glance.
Pay with Ease
Trusted Delivery
Overview
_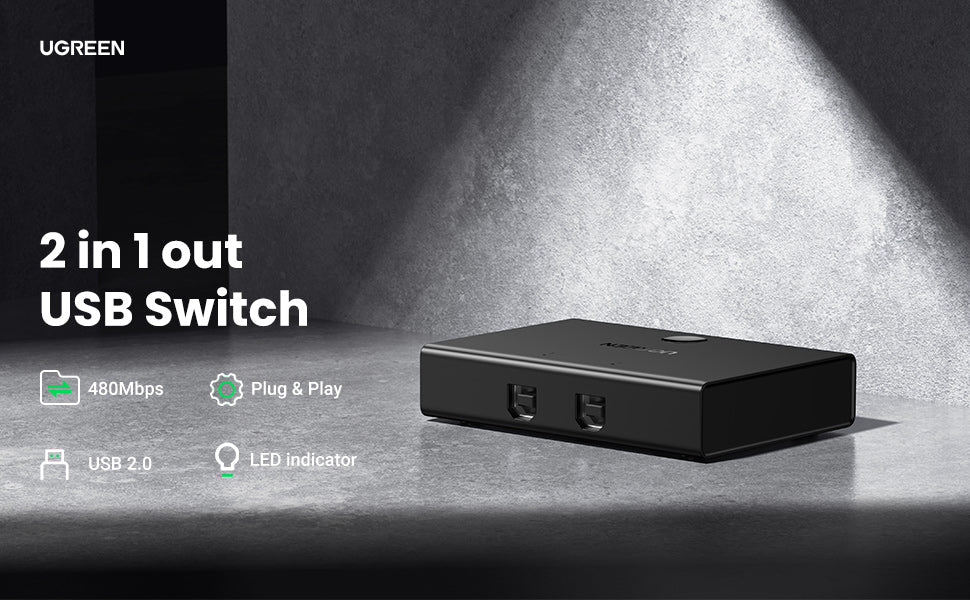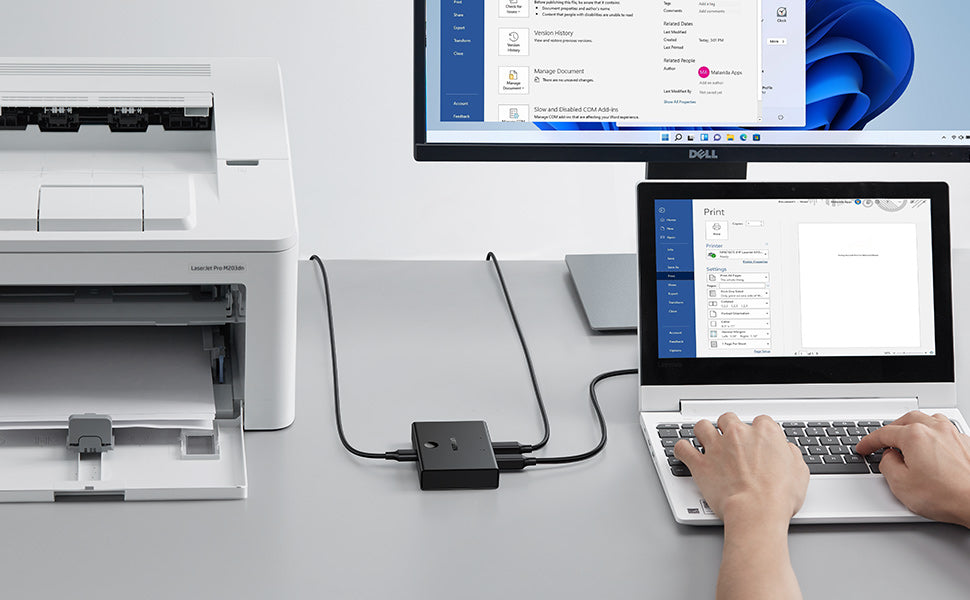 Switch Freely with UGREEN 2-Port USB Switcher Box, Share Resources and Save Money & Time! USB Switcher with One-push-button Control Ugreen 2 in 1 out USB 2.0 sharing switch is ideal for enabling 2 computers to share 1 USB device. Simply press the switch button to change the controlling computer. Relief from the endless disconnect and reconnect as well as tangled USB cable mess. Simplify using experience and tidy up your desk. Wide Compatibility The USB sharing box allows 2 PCs to share 1 USB device, for example, a printer, scanner, camera, keyboard, and any other devices with USB connection. Also fully compatible with all computers equipped with standard USB 3.0/2.0/1.1 Type-A interface, no matter the system they run, such as Macbook, MacBook Pro, iMac, Surface Pro, Windows 10 / 8.1 / 8 / 7 / XP / Vista, Linux. LED Indicator & Compact Design LED indicator lights allow you to know which computer is in control easily. Designed to be compact and lightweight, the USB KM switch takes very little space. It's a great companion for you either in working office or while on-the-go. Warm Reminder Not bidirectional, only works as 2 in 1 out. Wear resistant, good heat dissipation Adopt ABS, PVC material, anti-oxidation, high-temperature resistance, expand the lifespan of USB switch.
Specs
| | |
| --- | --- |
| Item model number | 30345 |
| Switch type | Touch Switch |
| Mounting type | Rack Mount |
| International protection rating | IP54 |
UGREEN USB Switch Selector, KM Switcher Box 2 in 1 Out USB 2.0 Sharing Switch Hub
€27,99